Meet the ASCEND Guiding Coalition
The ASCEND Guiding Coalition is an advisory board of technology, science, engineering, and business leaders selected to help maximize our year-round reach and impact, including the design and content of our centerpiece annual event.
From rockets and payloads to policy, administration, and advocacy, the 44 members of the 2023 ASCEND Guiding Coalition bring an accumulated wealth of experience — millions of miles and billions of dollars invested in space — to inform and inspire the ASCEND community.
Julie Van Kleeck
is the Space Domain Lead and the ASCEND Executive Producer at AIAA. In 2019, she retired from Aerojet Rocketdyne as the vice president of the Space and Launch Propulsion Business Unit.
Julie joined Aerojet Rocketdyne in 1981 as a systems engineer. She specialized in system design and system architectures and was the Chief Systems Engineer on several first-generation missile defense systems such as the Advanced Liquid Axial Stage (ALAS) and Brilliant Pebbles. Many of the technologies pioneered on those systems are still in use in today's missile defense systems. She was recognized at Aerojet, GenCorp, and the Strategic Defense Initiative (SDI) office for her contributions to first-generation missile defense systems.
Later, in the company's Space business area, she played pivotal strategy, capture, and program management roles prior to moving into executive management. She worked on many satellite, spacecraft and launch vehicle propulsion programs, always working to advance the state of the art of propulsion technology while maintaining focus on mission success. Some of her key accomplishments include managing the Atlas V solid rocket motor program that developed and qualified the solid rockets that powered the Pluto New Horizons Mission; leading the Electric Propulsion Development Organization responsible for developing Advanced Extremely High Frequency (AEHF) electric propulsion that revolutionized satellite propulsion; and delivery of the nation's next-generation human space propulsion systems such as the Orion and RS25 for SLS.
Throughout her career she worked with DoD, NASA, and commercial customers on efforts to advance launch and in-space propulsion and materials and manufacturing technologies. She is widely known in the aerospace community and has held leadership roles in numerous industry organizations, including AIAA, the Coalition for Deep Space Exploration (CDSE), Powerhouse Science Center, and the SLS/Orion industry coalition. She also has been a champion throughout her career for Science, Technology, Engineering and Mathematics (STEM) and Women in Aerospace (WIA), being a leader—both internally through Women in Network (WIN) and externally—through numerous industry groups such as WIA and the California Assembly task force on STEM, as well as working with local junior high and high schools. She is an AIAA Fellow.
Sirisha Bandla
currently works as the Vice President of Government Affairs at Virgin Galactic. In this role, Sirisha oversees legislative, regulatory, and government business priorities for the company.
Previously, Sirisha served as the Associate Director for the Commercial Spaceflight Federation, an industry association of commercial spaceflight companies. At CSF, Sirisha worked on various policies with the aim to promote and enable the then emerging commercial space industry. Before CSF, she worked as an aerospace engineer designing components for advanced aircraft at L-3 Communications in Greenville, Texas. Sirisha serves on the Board of American Society for Gravitational and Space Research, American Astronautical Society, and the Future Space Leaders Foundation. She is also helps run the Matthew Isakowitz Fellowship Program, a program for undergrad and graduate students to gain access to internships, mentorship, and a network in the commercial space industry.
Sirisha has a Bachelors of Science degree in aeronautical/astronautical engineering from Purdue and holds a Masters of Business Administration from the George Washington University.
Bill Beckman
is the director of NASA programs for Boeing Global Sales and Marketing. He has over thirty years of experience across all aspects of the aerospace industry include design, manufacturing, test, flight, federal funding, policy and regulation, as well as experience in civil, commercial and defense sectors.
Prior to joining Global Sales and Marketing, Beckman was the director of NASA programs for Boeing Government Operations, and was responsible for development, implementation, and support of Capitol-based campaigns to sustain overall industry growth and company objectives for future competitive opportunities. Working with Executive Branch offices, and Legislative Branch activities, he helped to shape the future of human space exploration through capabilities and systems development in support of NASA.
He began his career at Rockwell International's Rocketdyne in Canoga Park, CA and Stennis Space Center in Mississippi, working first as an engineer, then program management and industry advocacy.
A graduate of the Purdue University, Bill holds a bachelor's degree in aeronautical and aerospace engineering, with an MBA from Loyola University of Chicago.
He is the President of the National Space Club, and a member of the FAA – Commercial Space Transportation Advisory Committee (COMSTAC), Aerospace Industries Association (AIA), American Institue of Aeronautics and Astronautics (AIAA), and American Astronautics Society (AAS).
With 25 years of startup and strategic leadership experience at some of the world's biggest companies and three investor-backed, high-growth startups,
Tejpaul Bhatia
leads revenue generation and future monetization strategy for the commercial development of space as Chief Revenue Officer at Axiom Space. Prior to joining Axiom, he led External Strategic Narrative for the Office of the CIO at Google, where he met with C-suite executives at Fortune 100 corporations to discuss the future of work, supporting over $4B in sales pipeline. Tej first joined Google as the Startup Ecosystem Manager in New York to establish and grow Google Cloud's presence with startup founders, venture capital firms, and family offices; he previously was an Entrepreneur in Residence at Citi Ventures.
As a startup founder for 10 years prior, Tej served as Chief Operating Officer for an educational technology company, Explain Everything, CEO of video chatting platform Chatwala, and CEO of Kaptur, an app that enables users to instantly aggregate all photos taken at any event in seconds. Before founding Kaptur, Tej was Senior Manager of Product and International Strategy for ESPN, where he launched ESPN3 in the US, Mexico, Brazil, and Europe. Tej holds a bachelor's degree in computer science from Columbia University. He has served in non-profit leadership and board positions at the Make-A-Wish Foundation and the Startup Leadership Program.
Dr. Robert D. Braun
has more than 35 years experience as a space systems engineer, technologist, and organizational leader. He has contributed to the formulation, development, and operation of multiple space flight missions and is a recognized authority in the development of entry, descent and landing systems.
Dr. Braun serves on the executive leadership team of the Johns Hopkins Applied Physics Laboratory as Head of the Space Exploration Sector. He previously served as Director for Planetary Science at the Jet Propulsion Laboratory (2020-2022), Dean of the College of Engineering and Applied Science at the University of Colorado Boulder (2017-2020), a faculty member of the Georgia Institute of Technology (2003-2016) and a member of the technical staff of the NASA Langley Research Center (1989-2003).
In 2010-2011, Dr. Braun served as the first NASA Chief Technologist in more than a decade. In this capacity, he was responsible for development of the Agency's technology and innovation policy and programs. He created and led the initial implementation of a spectrum of NASA technology programs designed to build the capabilities required for our nation's future space missions. This activity spanned all ten NASA Centers, industry and academia, and fostered partnerships between NASA and other government agencies.
Dr. Braun is a member of the National Academy of Engineering, a Fellow of the AIAA and AAS, and the author or co-author of over 300 technical publications.
Tory
is the CEO of United Launch Alliance (ULA). Under his leadership, ULA has transformed into a competitive powerhouse that is shaping the future of space launch by making it more affordable, accessible and introducing revolutionary new capabilities to meet the challenges of the future.
Over the past 35 years, Tory has developed and fielded dozens of critical defense and space launch systems that form the backbone of America's national security and her efforts in space exploration. He has a deep history in Missile Defense, Strategic Deterrence, and Space Launch. Tory is also an expert in several rocketry and hypersonic technologies and holds multiple related patents.
He is a tireless advocate for the industry, sharing his passion for space technology and his vision of a self-sustaining human presence beyond earth. Tory is also a strong communicator on space. His social media presence is legendary world-wide and is an inspiration to many.
Tory is an American Institute of Aeronautics and Astronautics (AIAA) Fellow, a member of the DoD Defense Innovation Board Space Advisory Committee, and serves as a member of the National Space Council Users' Advisory Group.
Tory is also an awardee of the Von Braun Trophy, a holder of the von Karman Medal, and a member of the Space & Satellite Professionals International Hall of Fame.
Lt. Gen. DeAnna M. Burt
is the Deputy Chief of Space Operations for Operations, Cyber, and Nuclear, United States Space Force, the Pentagon, Arlington, Virginia. As the Chief Operations Officer, Lt. Gen. Burt has overall responsibility for Operations, Sustainment, Cyber, and Nuclear Operations of the United States Space Force.
Lt. Gen. Burt was commissioned in 1991 as a distinguished graduate of the Air Force ROTC program at Embry-Riddle Aeronautical University. Her career has included numerous satellite operations and staff positions in Air Force Space Command and U.S. European Command. The general has commanded the 2nd Space Operations Squadron, the 460th Operations Group, and the 50th Space Wing. She is a graduate and former instructor of the U.S. Air Force Weapons School, and a graduate of the School of Advanced Air and Space Studies.
Prior to her current assignment, Lt. Gen. Burt was the Commander, Combined Forces Space Component Command, U.S. Space Command, and Vice Commander, Space Operations Command, U.S. Space Force.
Steve "Bucky" Butow
is the Director of the Space Portfolio at the Defense Innovation Unit (DIU). He is a plank-owner & co-founder of the Defense Innovation Unit.  As a researcher with the SETI Institute, he worked on instrument concepts for Mars surface soil analysis at NASA Ames Research Center, and was Co-PI on two NASA / USAF airborne science campaigns.  He was recognized for outstanding achievement by the Space Science Division in 1999, and received an Ames Honor Award as a member of the first astrobiology mission in 2000. He holds a B.A. in Physics & Astronomy from San Jose State University, M.S. in Air & Space Strategic Studies from the University of Maryland.  In his military (reserve) status, he is a brigadier general and commander of the California Air National Guard with more than 3,500 flying hours in Air Force aircraft.
Johnathon Caldwell
is the Vice President and General Manager of the Military Space line of business within Lockheed Martin Space. In this role, Johnathon is responsible for critical national security space programs and mission areas including global navigation satellite systems, space-based missile warning, protected communications, space protection and operations, and logistics and sustainment for various customers including the Department of Defense.
Previously, Mr. Caldwell served as the Vice President of Business Innovation Transformation & Enterprise Excellence for Lockheed Martin Space where he led the digital modernization and sustainment of Lockheed Martin Space, including the Business Area's Chief Information Officer, CDAO, ISO & Classified Systems, Business Transformation, and Digital Innovation groups.
Mr. Caldwell's 25-year career includes a series of progressive leadership roles within Lockheed Martin, from Vice President of the Navigation Systems mission area, where he was responsible for the company's Positioning, Navigation and Timing $7B Positioning, Navigation and Timing (PNT) business portfolio, including space, ground, and operations of this worldwide critical military and civilian infrastructure. Prior to this, he held a series of progressive leadership roles within the business, spanning from GPS program leadership and chief engineer, as well as roles in program management, payloads, systems engineering and supply chain across a variety of Government and Commercial space programs.
Mr. Caldwell holds a Bachelor of Science degree in Aerospace Engineering from the University of Colorado. He is a graduate of Lockheed Martin's Leadership Excellence & Development Program, Program Management Development Program and Executive Development & Growth Enhancement Program. He is also a two-time recipient of the Lockheed Martin Corporate NOVA Award, which recognizes individuals and teams for their exceptional contribution to the company's mission and business objectives.
Dr. Ahsan Choudhuri
is Associate Vice President for Aerospace Center and Professor of Mechanical Engineering at the University of Texas at El Paso (UTEP). He is the founding Director of UTEP NASA MIRO Center for Space Exploration and Technology Research (cSETR) and holds the endowed Mr. and Mrs. MacIntosh Murchison Chair II in Engineering. Dr. Ahsan Choudhuri's academic career has evolved within the paradigm of UTEP's access and excellence mission. He is a part of UTEP's strategic vision to create abundant educational opportunities to ensure social mobility for the residents of the Paso Del Norte region.
Dr. Ahsan Choudhuri is an internationally renowned expert in aerospace and defense systems. Dr. Choudhuri led the growth of UTEP's aerospace and defense and energy education and research program from infancy to a nationally recognized program. He has formed strategic collaborations and partnerships with NASA, DOE, DOD, and aerospace and defense industries. Dr. Choudhuri is a key institutional leader for developing and managing the partnership with Lockheed Martin and NASA. Dr. Choudhuri is a member of the Executive Committee of the Lunar Surface Innovation Consortium (LSIC), which supports NASA's Space Technology Mission Directorate. Dr. Choudhuri serves as the chair of Texas Urban Air Mobility Advisory Committee.
Dr. Choudhuri leads the university's partnership with the County of El Paso, the City of El Paso, and the City of Horizon City to expand UTEP academic, research, and economic development expansions in the eastern region of El Paso County, the fastest growing and most underserved region of the County. He is currently overseeing Technology Research and Innovation Acceleration Park in Fabens, Unmanned Aerial Systems Flight Test Range in Tornillo, Aerospace and Defense Small Business Accelerator in Horizon City, and Defense Talent Development Hub in Central El Paso.
The focus of Dr. Choudhuri's activities is to catalyze a regional talent and technology development ecosystem by providing strategic capabilities in Aerospace and Defense Technologies and Advanced Manufacturing. He has been at the forefront in creating a "real" Launch-Pad of innovation cluster for the economic development of the greater Southwest Border Region by connecting the area's engineering talents, UTEP's excellent research and development facilities and capabilities, and regional economic development funds. Dr. Choudhuri was nominated for the "2019 El Pasoan of the Year Award" for his work with regional economic development stakeholders. Under his direction, cSETR performs frontier research in aerospace and energy engineering while developing regional talents. cSETR is particularly known for its technology development success in Liquid Methane/Liquid Oxygen and AF-M315E green propulsion and oxy-combustion systems. Since its inception in 2009, cSETR has supported 400+ students. More than 85% of these students are from El Paso zip codes. These students have been aggressively recruited to the job market, obtaining positions within academia, federal agencies, and aerospace and defense industries.
Dr. Choudhuri also led the development of cSETR's outreach arm NASA MUREP Aerospace Academy Southwest (MAA Southwest) [supported by 2 NASA Education Grants] for rolling out aerospace themed extensive K-12 programs to inspire and engage students from every school district of our region. The MAA Southwest has successfully engaged and prepared more than 8000 direct participant K-12 students and 400 in-service teachers.
Additionally, it has engaged thousands more non-direct participants, including both adults and students literally, at educational and community outreach events.
Dr. Choudhuri has secured more than $40 million of external grants, contracts, and infrastructure development projects as principal and co-principal investigators. Dr. Choudhuri has mentored 7 Research Assistant Professors, been the research supervisor of 27 Ph.D. and 86 M.S. graduates, and co-authored more than 160 technical publications with his students. cSETR currently supports an average of 100 undergraduate and graduate students. Eighty percent (80%) of cSETR sponsored students from underrepresented groups in STEM, and thirty percent (30%) are women.
As a Department Chair from 2010 to 2018, Dr. Choudhuri led the transformation of the Mechanical Engineering Department to a nationally preeminent education and research program. Under his leadership, the enrollment in mechanical engineering graduate and undergraduate programs grew from 482 to 1426 students. During this time, the department also became the top producer of extramural research funding within the university. Dr. Choudhuri led the development of the mechanical engineering doctoral program.
Dr. Choudhuri has received numerous awards and recognitions, including recognition for Faculty Award for Research Innovation from NASA, multiple Best Paper Awards from the American Institute of Aeronautics and Astronautics (AIAA), and Millionaire Research Awards, Outstanding Leadership Award, and Outstanding Performance for Securing Extramural Funding Award from UTEP.
Dr. Choudhuri is a proud alumnus of Khulna University of Engineering and Technology, where he received his B.S. in Mechanical Engineering. He received his M.S. and Ph.D. from the University of Oklahoma School of Aerospace and Mechanical Engineering.
Carissa Christensen
is the Chief Executive Officer and founder of BryceTech companies in the US and the UK. She previously co-founded defense company The Tauri Group, acquired by LMI in 2019, and quantum computing software company QxBranch, acquired by Rigetti Computing in 2019. She is an active tech investor and has served on several early-stage boards.
Ms. Christensen is an internationally recognized expert on the satellite and space industry, known for rigorous analysis and innovative, data-driven strategy. She sits on the World Economic Forum Global Future Council on Space and the Advisory Council of the Aerospace Corporation's Center for Space Policy and Strategy. She is a Senior Advisor to the annual US Space Force Schriever Wargame. Ms. Christensen previously served on the National Research Council Space Technology Industry-Government-University Roundtable, which advises NASA, and the Space Committee of the Defense Innovation Board.
Ms. Christensen guest lectures at universities internationally, including Harvard Business School and the Eisenhower School of National Security. She has testified before Congress and Parliament committees on space markets. She publishes extensively, is often cited by major media outlets, and has appeared in commercial space documentaries by The Financial Times and Bloomberg.
Ms. Christensen is a graduate of Harvard University's Kennedy School, where she specialized in science and technology policy. She attended the London School of Economics and was a Douglass Scholar at Rutgers University. She is a Fellow of the American Institute of Aeronautics and Astronautics.
Sandra Connelly
serves as the Acting Associate Administrator (DAA) for NASA's Science Mission Directorate (SMD) where she provides executive leadership, overall planning, direction, and management of NASA's $7B science portfolio focused on the scientific exploration of Earth, the Sun, solar system, universe, and biological and physical sciences. She brings to the job over 30 years of leadership in portfolio, program and project management, and strategic planning. She fosters partnerships with other government agencies and collaborates with commercial and international partners to leverage synergistic investments and advance science. She has served as DAA since January 2020.
Ms. Connelly has held previous SMD leadership roles including: the Deputy Associate Administrator for Programs, overseeing SMD's portfolio of over 100 missions in formulation, development, and operations; the Director of the Joint Agency Satellite Division, responsible for managing reimbursable satellite, instrument, and ground system development activities performed by NASA for partner agencies; and the Deputy Director for the Heliophysics Division, overseeing portfolio strategy and implementation.
Prior to joining SMD in 2014, she served as the Director for Engineering, Program and Project management, within NASA's Office of the Chief Engineer, during which she established and revised agency acquisition, engineering, and program/project management policy for NASA's space flight, aeronautics, technology and information technology portfolios. Ms. Connelly co-authored several standards and practice guides for international standards organizations including the Project Management Institute and the International Organization for Standardization.
Early in her career, Ms. Connelly served as program manager for the US Navy's Expert Systems Program. She joined NASA's Langley Research Center in 1992, serving in various roles including systems engineer, business manager, and science manager for aeronautics and science projects.
Ms. Connelly earned a bachelor's degree in physics from the College of Charleston and a master's degree in electrical engineering from Old Dominion University.
Michael Costas
is general manager of the Defense and Space business line of Bechtel's Nuclear, Security, & Environmental global business unit. He is responsible for oversight and growth of a project portfolio that includes first-of-a-kind construction, operations, and business transformation services for U.S. and allied governments.
Included in that portfolio is a plant that is disassembling and destroying surplus U.S. chemical weapons in Colorado and a sister plant in Kentucky expected to start operations in 2019. Michael also oversees the test operations and sustainment contract at the Arnold Engineering Development Complex for the U.S. Air Force, with ground test facilities in Tennessee, California, and Maryland.
Michael joined Bechtel in 2011 as manager of corporate quality and Six Sigma, where he guided improvements to our quality management system to benefit project delivery.
He then joined the $16.8 billion Hanford Waste Treatment Plant (WTP) project as manager of Quality and EPC Functions, and was named president and general manager of the Waste Treatment and Completion Company – a 1,500 person Bechtel-led company responsible for construction, startup, and commissioning of the WTP.
In 2018, Michael was named principal associate laboratory director for Capital Projects as Los Alamos National Laboratory, a premier national security science institution with more than 11,000 employees.
Prior to joining Bechtel, Michael spent 25 years in the defense and space industry working for leading companies such as Raytheon, Boeing, and Rockwell. At Boeing, he led the Delta IV launch vehicle's first stage rocket propulsion system project.
Michael was elected a Bechtel principal vice president in 2012. He holds a bachelor's degree in business and management from Pepperdine University and earned a certificate in Bechtel's General Management Plan.
Laura Crabtree
was one of the Crew Operations & Resource Engineers (CORE) who helped put the United States back in the human Space Flight business. Among the initial members of the operations team for SpaceX's Dragon spacecraft, she was also on console for the first Dragon mission in 2010, the first mission to the International Space Station (ISS) in 2012, and part of the commercial crew contract over the next decade—including the mission that delivered astronauts to the ISS in 2020. During that mission, Laura was the lead trainer for the crew and one of the CORE operators who communicated to and advocated for the crew during free flight. Laura's proudest moments were receiving a call on her personal cell phone from Astronaut Doug Hurley when he was orbiting above the earth, and operating both the first commercial cargo and crew vehicles in free flight.
During her time at SpaceX, Laura was also a part of the early F9 Recovery, Dragon Recovery, and Dragon operations teams. She was responsible for crew and ground operator flight training, flight software test, CONOPs development and simulator design. Over the years, Laura authored, tested and executed hundreds of procedures for both the ground operations teams and the crew onboard Dragon.
Laura began her career at Northrop Grumman working various programs for DARPA and other DoD customers, including a 4 year operations assignment in North Yorkshire, England. She has a Bachelors in Astronautical Engineering and a Masters in Systems Architecture, both from the University of Southern California.
Laura wants to continue to revolutionize the space industry, beginning with operational tools. She has seen how great tools and training can transform an operation, and she is excited to be able to develop tools for space and aviation companies. She's thrilled to be in another startup environment after eleven years at SpaceX.
Laura is the proud mom of two young boys, and feels passionate about women in STEM. She encourages children to chase their dreams in science, technology, the arts, or any other passion. She also enjoys long runs with her dog and cycling up the biggest hills she can find.
Kara Cunzeman
is the Lead Futurist for Strategic Foresight for the Center for Space Policy and Strategy at The Aerospace Corporation. In her role, Ms. Cunzeman is focused on cultivating a formalized methodologies in futures thinking, helping the enterprise adequately prepare and proactively shape the future through innovative approaches across strategy, acquisition, S&T portfolio management, policy, and operations. Ms. Cunzeman is trailblazing application of systematic foresight approaches to space and resolute in transforming opportunity mindsets for an abundant future space enterprise.
Cunzeman joined Aerospace in 2015, and served five years with Aerospace's Strategic and Global Awareness Directorate, providing thought-leadership and strategic insight into critical issues for the nation spanning global space advancements, technology development, and threat futures to a broad range of customers across DoD, IC, and Civil sectors.
Prior to working at Aerospace, Cunzeman held roles in space systems engineering, vehicle operations, and space sensor development at Raytheon and General Atomics. She was also a key contributor to winning Phase II funding from a NASA small business in innovation (SBIR) award for extracting oxygen from lunar soil while at Packer Engineering.
Cunzeman received her B.S. in Multidisciplinary Engineering and M.S. in Aeronautics and Astronautics Engineering from Purdue University in West Lafayette, IN. She is also a certified foresight practitioner and guest instructor at the Institute for the Future, the Center for Intelligence Studies, and George Washington University.
Robert Curbeam
is the Senior Vice President of Space Capture at Maxar.
Previously, Robert Curbeam served as Vice President of Strategy and Business Development for the Tactical Space Systems division at Northrop Grumman Space Systems. Mr. Curbeam has held various positions in the aerospace and defense industry, including functional and profit and loss positions in Civil and Military Space, International Business, Mission Assurance, Quality, Six Sigma, and general management.
Prior to joining the private sector, Mr. Curbeam was a US naval officer for 23 years and an astronaut with NASA, logging more than 3,000 flight hours in 25 different aircraft and spacecraft. He held a wide range of positions with NASA as director of Safety, Reliability, and Quality Assurance for the Constellation program, deputy director of Flight Crew Operations; and Spacecraft Communicator (CAPCOM) branch chief. Curbeam was second-in-command for safety across NASA, as the deputy associate administrator of Safety and Mission Assurance at NASA headquarters. During his tenure with NASA, he served on three space shuttle missions and performed seven spacewalks. He is a graduate of the Navy Fighter Weapons School (TOPGUN) and Navy Test Pilot School and was lead project manager officer for the F-14 Air-to-Ground Weapons Separation Flight Test Program.
Mr. Curbeam holds two advanced degrees in aeronautical and astronautical engineering the Naval Post Graduate School in Monterey, California, and received his bachelor's degree with merit in aerospace engineering from the U.S. Naval Academy in Annapolis, Md.
Dan Dumbacher
is the Executive Director of the American Institute of Aeronautics and Astronautics (AIAA).
Before joining the AIAA staff in January 2018, Dumbacher was a Professor of Engineering Practice in the School of Aeronautics and Astronautics at Purdue University, where he taught courses in systems thinking, systems engineering, and space policy.
Prior to Purdue, Dumbacher served as the Deputy Associate Administrator, Exploration Systems Development Division, Human Exploration and Operations Mission Directorate at NASA Headquarters. In that capacity, he provided leadership and management as the Program Director for Exploration Systems Development, which included: the Space Launch System, Orion, and Ground Systems Development and Operations development and integration efforts. He led a national team of over 5,000, spanning all NASA centers and industry, and was responsible for a $3 billion annual budget.
During his career, he has received numerous awards and honors including the coveted Silver Snoopy Award and the NASA Distinguished Service Medal. In 2015, Purdue recognized him with the Gustafson Teaching Award.
Dumbacher earned his bachelor's degree in mechanical engineering from Purdue University and a master's degree in business administration from the University of Alabama in Huntsville. He has also completed the Senior Managers in Government program at Harvard University.
Dumbacher is a native of Indianapolis, Indiana. He and his wife Lee have three grown children.
Ariel Ekblaw
is the founder and lead of the MIT Media Lab's Space Exploration Initiative, a team of over 50 graduate students, faculty, and staff actively prototyping our Sci-Fi space future across 40+ in house research projects. For the Initiative, Ariel coordinates space research and launch opportunities across the spectrum of science, engineering, art, and design, and builds collaborations on this work with MIT and Space Industry partners.
Ariel is simultaneously a graduate research assistant at the MIT Media Lab, where she is completing a PhD in Aerospace Structures in Dr. Joseph Paradiso's Responsive Environments group. Her current research includes designing, testing and deploying self-assembling space architecture, as future habitats for space tourists and science missions in orbit around the Earth and Mars.
Ariel brings an interdisciplinary approach to her research at the Media Lab, with undergraduate degrees in Physics, Mathematics and Philosophy from Yale University and a master's in blockchain research from MIT. Her past work experience includes blockchain product development, cloud computing analytics at Microsoft Azure, big data programming at the CERN Particle Physics Laboratory, microgravity research with NASA, and Mars2020 rover hardware systems engineering at NASA's Jet Propulsion Laboratory. Ariel's work has been featured in AIAA, IEEE, WIRED, Ars Technica, MIT Technology Review, Harvard Business Review, The Wall Street Journal, PRI's ScienceFriday, CNN, the BBC, and more.
Previously, in the Viral Communications group at the Media Lab, Ariel researched and prototyped technologies that "scale with user inventiveness". Her projects explored digital currencies, applications for blockchain (Bitcoin's cryptographic protocol), and decentralized networks.
Carol Erikson
is vice president, Digital Transformation for Northrop Grumman's Space Systems sector, a premier provider of space, ground
and launch systems with end-to-end capabilities in national security, civil and commercial systems.
In this role, Erikson is responsible for leading digital transformation initiatives across the sector that will enable the Space Systems team to leverage transformational capabilities to ensure effective execution across the full program life cycle from concept through sustainment.
Most recently, Erikson served as vice president and enterprise program manager for the Sentinel (GBSD) program, where she established and led the nationwide team responsible for capturing, and executing, the Technical Maturation and Risk Reduction program and for developing innovative engineering and digital environment solutions critical to capturing and preparing for the Engineering, Manufacturing, and
Development program.
Erikson joined Northrop Grumman in 1987 as a systems engineer and has technical, supply chain, functional management and program management experience in space systems. She served as the director for Mission 1 system enhancement and captures, deputy program manager for program
integration on the Advanced Missions Programs portfolio and project manager for payloads for the National Polar-orbiting Operational Environmental Satellite System. In 2013, Erikson was appointed vice president of Engineering for the heritage Northrop Grumman Aerospace Systems sector's Space Systems Division, where she led engineering efforts across the Space Systems portfolio, including restricted space, the James Webb Space Telescope, and the Advanced Extremely High Frequency programs.
Erikson earned a bachelor's degree in engineering and computer science from Stonehill College and a bachelor's degree in electrical engineering from the University of Notre Dame. She also earned a Master of Science degree in electrical engineering from the University of Southern California and completed the Executive Management Program at the University of California Los Angeles.
Debra Facktor
is Head of U.S. Space Systems for Airbus U.S. Space & Defense, Inc., reporting to the Chairman and President of Airbus U.S. She joined the company in March 2020 and is responsible for managing the two businesses within U.S. Space Systems: National Security Space and Space Exploration. She also serves on the board of the Airbus OneWeb Satellites Joint Venture.
For more than 30 years, Debra has guided new and established companies through unprecedented industry change. Her leadership and strategic vision have enhanced business growth and fostered new paradigms for industry collaboration. A business leader and systems thinker, she is known for her ability to see opportunity in change and for developing proactive plans that anticipate and leverage evolving market landscapes. With an emphasis on teamwork, mentoring, diversity and inclusion, she brings people and ideas together to make a positive impact.
Through January 2020, Debra was Vice President and General Manager of Strategic Operations for Ball Aerospace, where she elevated the company's profile across multiple stakeholder communities and expanded its strategic capabilities in defense, civil and commercial sectors. Debra represented Ball Aerospace as its senior executive in the Washington, DC area, where she led the company's Washington Operations, Marketing & Communications, and Strategic Development portfolios. She transformed the strategic planning process and implemented an enterprise-wide integrated strategic plan, leading to tremendous and sustainable multi-sector growth.
Prior to joining Ball in January 2013, Debra served as the president of DFL Space LLC, an aerospace consulting firm focused on developing innovative business strategies for its clients. As an industry professor at Stevens Institute of Technology in Hoboken, NJ, she also led its Masters of Engineering in Technical Leadership program, served as Director of Strategic Programs for the Systems Engineering Research Center (SERC) and was Principal Investigator on research sponsored by the U.S. Air Force.
Her extensive business experience includes serving as president and an owner of AirLaunch LLC, a small business that won funding from the Defense Advanced Research Projects Agency (DARPA) and the U.S. Air Force to develop an operationally responsive small launch vehicle. She served as vice president of Business Development and Strategic Planning for Kistler Aerospace Corporation, which raised over $600M in private capital to develop a reusable launch vehicle for commercial markets and laid the groundwork for commercial resupply of the International Space Station. Earlier in her career, she was chief of Moscow Operations for ANSER's Center for International Aerospace Cooperation.
Debra is actively engaged as an advisor, mentor and board member in the aerospace community, with organizations such as the University of Michigan Industrial Advisory Board, Intelligence and National Security Association (INSA), American Institute of Aeronautics and Astronautics (AIAA), Future Space Leaders Foundation, Brooke Owens and Matthew Isakowitz Fellowship Programs, Women in Aerospace (WIA), WIA Foundation and the International Women's Forum. She is a fellow of AIAA and the American Astronautical Society (AAS) and an academician of the International Academy of Astronautics (IAA).
Debra received her bachelor's and master's degrees in aerospace engineering, both from the University of Michigan, and is an alumna of the International Space University summer session program in Space Policy & Law in Strasbourg, France.
James Free
was selected as the associate administrator for the Exploration Systems Development Mission Directorate at the agency's Headquarters in Washington by NASA Administrator Bill Nelson on Sept. 20, 2021.
At the time of Free's appointment, NASA also announced the directorate leading all the agency's human spaceflight operations would separate into two areas. Free will lead a new directorate the agency is establishing, as well as work closely with the Space Operations Mission Directorate.
Free is a formerly retired NASA civil servant who has spent the past few years in a variety of private sector roles including most recently chief operating officer and senior consultant for Lead Off the X. Prior to his work at Lead Off the X, he served as senior vice president of Aerospace Systems at Peerless Technologies.
He retired from NASA in 2017, most recently serving as the agency's deputy associate administrator for technical for the Human Exploration and Operations Mission Directorate. He was responsible for assisting the associate administrator in providing strategic direction for all aspects of NASA's human spaceflight exploration mission. In that role, Free provided cross-agency support functions of space communications and rockets, including direction for the operation and use of the International Space Station, development of the Space Launch System and Orion spacecraft, and direction for the commercial crew and cargo programs that provide logistics and crew transportation to the station.
Free began his NASA career in 1990 at NASA's Goddard Space Flight Center in Greenbelt, Maryland, as a propulsion engineer and later as a systems engineer on several spacecraft. He served in a variety of positions at Johnson Space Center in Houston and Glenn Research Center in Cleveland. Free worked on various projects and programs spanning everything from the International Space Station and electric actuation technologies, to the Orion and Prometheus spacecraft.
He went on to serve as deputy director before his appointment as the Glenn director, where he was responsible for planning, organizing, and directing the activities required in accomplishing the missions assigned to the center.
A native of Northeast Ohio, Free earned his bachelor's degree in aeronautics from Miami University in Oxford, Ohio, and his master's degree in space systems engineering from Delft University of Technology in the Netherlands.
Free is the recipient of the Presidential Rank Award, NASA Distinguished Service Medal, NASA Outstanding Leadership Medal, NASA Exceptional Service Medal, NASA Significant Achievement Medal, and numerous other awards.
Mike Gazarik
joined Ball Aerospace in March of 2015 from NASA where he was the Associate Administrator for the Space Technology Mission Directorate at NASA headquarters. As the vice president of engineering, he provides overall strategic and operational leadership of engineering, program execution, and technology. Prior to this position, he served as Technical Director where he worked to align Ball's technology development with business development and growth strategies. He has over 25 years' experience in the design, development, and deployment of spaceflight systems. He has contributed to the development of technology with application to NASA's exploration, space operations and science missions. In standing up the Space Technology Mission Directorate at NASA headquarters, he led NASA's rapid development and incorporation of transformative technologies that enable the Agency's missions, and address the Nation's aerospace community's most difficult challenges.
Earlier in his career, Gazarik served as deputy director for programs at NASA's Langley Research Center in the Engineering Directorate. Prior to joining NASA, Gazarik served as project manager for the Geosynchronous Imaging Fourier Transform Spectrometer project at the Massachusetts Institute of Technology's Lincoln Laboratory. He also led the development of the Airborne Sounder Testbed-Interferometer, an instrument that helps scientists understand temperature and water vapor profiles of the Earth's atmosphere. Gazarik also worked in the private sector on software and firmware development for commercial and government applications including telecommunications and signal processing.
Gazarik understands that diverse teams develop better solutions. Under his leadership, engineering at Ball Aerospace has seen marked increase in diversity at all levels of the organization. Forty percent of the engineering directors are women, and overall diversity of department has increased by more than 10%. He served as an executive sponsor for the LGBTA Ball Resource Group and a member of the National Society of Black Engineers, and a member of the Society of Women Engineers.
Gazarik earned a B.S. in Electrical Engineering from the University of Pittsburgh in 1987 and was a General Motors Scholar. He earned an M.S. in 1989 and a Ph.D. in 1997, both in electrical engineering, from the Georgia Institute of Technology. He is a Fellow of the AIAA, and a member of the Engineering Advisory Board for the University of Colorado's Electrical and Computer Engineering Department, the University of Pittsburgh's Electrical and Computer Engineering Department, and the University of Arizona's College of Engineering Department. He also serves on the NASA Advisory Committee for Technology and Innovation. Gazarik has received numerous awards, including NASA's Outstanding Leadership Medal, a Silver Snoopy Award, one of NASA's highest honors, and was selected as a Distinguished Alumni from the University of Pittsburgh's Swanson School of Engineering in 2018. He is a leader in Boy Scouts of America, coached and refereed youth lacrosse, and led the development of lacrosse programs in the Hampton Roads area.
William H. Gerstenmaier
is Vice President for Build and Flight Reliability at SpaceX.
Previously, he served as special advisor to NASA's deputy administrator, appointed to the position in July 2019.
Previously, Gerstenmaier had been the associate administrator for the Human Exploration and Operations Mission Directorate at NASA Headquarters in Washington. In this position, Gerstenmaier provided strategic direction for all aspects of NASA's human exploration of space and cross-agency space support functions of space communications and space launch vehicles. He provided programmatic direction for the operation and utilization of the International Space Station and its crew; development of the Gateway, Space Launch System and Orion spacecraft; and was providing strategic guidance and direction for the commercial crew and cargo programs.
Gerstenmaier began his NASA career in 1977 at the then Lewis Research Center in Cleveland, performing aeronautical research. He was involved with the wind tunnel tests that were used to develop the calibration curves for the air data probes used during entry on the Space Shuttle.
Beginning in 1988, Gerstenmaier headed the Orbital Maneuvering Vehicle (OMV) Operations Office, Systems Division at the Johnson Space Center. He was responsible for all aspects of OMV operations at Johnson, including development of a ground control center and training facility for OMV, operations support to vehicle development, and personnel and procedures development to support OMV operations. Subsequently he headed the Space Shuttle/Space Station Freedom Assembly Operations Office, Operations Division. He was responsible for resolving technical assembly issues and developing assembly strategies.
Gerstenmaier also served as Shuttle/Mir Program operations manager. In this role, he was the primary interface to the Russian Space Agency for operational issues, negotiating all protocols used in support of operations during the Shuttle/Mir missions. In addition, he supported NASA 2 operations in Russia, from January through September 1996 including responsibility for daily activities, as well as the health and safety of the NASA crewmember on space station Mir. He scheduled science activities, public affairs activities, monitored Mir systems, and communicated with the NASA astronaut on Mir.
In 1998, Gerstenmaier was named manager, Space Shuttle Program Integration, responsible for the overall management, integration, and operations of the Space Shuttle Program. This included development and operations of all Space Shuttle elements, including the orbiter, external tank, solid rocket boosters, and Space Shuttle main engines, as well as the facilities required to support ground processing and flight operations.
In December 2000, Gerstenmaier was named deputy manager, ISS Program, and two years later became manager. He was responsible for the day-to-day management, development, integration, and operation of the space station. This included the design, manufacturing, testing, and delivery of complex space flight hardware and software, and for its integration with the elements from international partners into a fully functional and operating space station.
Named associate administrator for the Space Operations Directorate in 2005, Gerstenmaier directed the safe completion of the last 21 Space Shuttle missions that witnessed assembly completion of the International Space Station. During this time, he provided programmatic direction for the integration and operation of the ISS, space communications, and space launch vehicles.
Gerstenmaier received a Bachelor of Science in aeronautical engineering from Purdue University in 1977 and a Master of Science degree in mechanical engineering from the University of Toledo in 1981. He completed course work early in his career for a doctorate in dynamics and control with emphasis in propulsion at Purdue University, and in spring 2019, he will receive an honorary doctorate from his alma mater.
For his technical contributions and leadership in national and international human spaceflight programs, Gerstenmaier was elected into the 2018 class of the National Academy of Engineering.
Gerstenmaier is the recipient of numerous awards, including three NASA Certificates of Commendation, two NASA Exceptional Service Medals, a Senior NASA Outstanding Leadership Medal, the Meritorious Executive Presidential Rank Award, and Distinguish Executive Presidential Rank Award. He also was honored with an Outstanding Aerospace Engineer Award from Purdue University. Additionally, he was twice honored by Aviation Week and Space Technology for outstanding achievement in the field of space. His other awards include: the AIAA International Cooperation Award; the National Space Club Astronautics Engineer Award; National Space Club Von Braun Award; the Federation of Galaxy Explorers Space Leadership Award; AIAA International Award; the AIAA Fellow; Purdue University Distinguished Alumni Award; and honored at Purdue as an Old Master in the Old Masters Program; recipient of the Rotary National Award for Space Achievement's National Space Trophy; Space Transportation Leadership Award; the AIAA von Braun Award for Excellence in Space Program Management; and the AIAA von Karman Lectureship in Astronautics.
He is married to the former Marsha Ann Johnson. They have two children.
Phillip (Phil) Ingle
is a Managing Director in Morgan Stanley's Investment Banking Division. He joined Morgan Stanley in 2002 as an Analyst in the firm's Melbourne, Australia, office. In 2004 he relocated to the New York office where he joined the Global Industrials Group. Phil specializes in the coverage of aerospace & defense, general industrial, security and distribution companies and has worked on a variety of M&A and capital markets transactions for clients across these industries.
Notable space-related transactions include Harris Corporation's acquisition of Exelis and its merger-of-equals with L3 Technologies, the IPO's of Parsons Corporation, Aeroflex and Booz Allen Hamilton, the acquisition financing for GenCorp's acquisition of Rocketdyne, and work for several commercial space companies, including Morgan Stanley's role as one of the two Lead Active Bookrunners on Virgin Galactic's August 2020 $460MM equity follow-on offering.
Phil graduated from the University of Melbourne with a Bachelor of Commerce (Hons) and Bachelor of Laws (Hons). During and after his five years at university, he served as an Infantry Officer in the Australian Army Reserve. Phil currently resides in Brooklyn, NY, with his wife Laura and their four daughters.
Larry D. James
was appointed Deputy Director of the Jet Propulsion Laboratory (JPL) in August 2013. At JPL, he is the Laboratory's Chief Operating Officer responsible to the Director for the day-to-day management of JPL's resources and activities. This includes managing the Laboratory's solar system exploration, Mars, astronomy, physics, Earth science, interplanetary network programs, and all business operations. These activities employ 6000 scientists, engineers, technicians, and business support personnel, generating $2.6 billion in annual revenues.
Prior to his retirement from the Air Force in 2013, Lt. Gen. James was the Air Force Deputy Chief of Staff for Intelligence, Surveillance and Reconnaissance at the Pentagon. He was responsible to the Secretary and Chief of Staff of the Air Force for policy formulation, planning, evaluation, oversight, and leadership of Air Force intelligence, surveillance and reconnaissance capabilities and led more than 20,000 Intelligence, Surveillance and Reconnaissance officers, enlisted and civilians across the Air Force ISR Enterprise.
Lt. Gen. James received his Bachelor of Science in Astronautical Engineering (1978) from the US Air Force Academy (Distinguished Graduate) and his Master of Science in Aeronautics and Astronautics (1983) from the Massachusetts Institute of Technology, Cambridge MA. He was also a Draper Fellow at the Charles Stark Draper Laboratory in Cambridge MA.
Steve Jurczyk
is co-founder, President and CEO of Quantum Space, a commercial space infrastructure and services company focused on developing evolvable and sustainable robotic Outposts.
He has thirty four years experience in leading high performing aerospace organizations developing complex robotic and human rated space systems; conducting aeronautics research; and developing space technologies.
Dr. Janet Kavandi
serves as President and Chief Science Officer for Sierra Space, a leading commercial space company that is building an end-to-end business and technology platform in space to benefit life on Earth.
Based at the company's offices at NASA's Kennedy Space Center, the veteran NASA astronaut is leading the Sierra Space Human Spaceflight Center and Astronaut Training Academy, where she is responsible for the selection, training, and human health of Sierra Space's corps of professional astronauts as well as the industry and experiential visitors who will go to space for work or for leisure.
Before joining Sierra Space, Dr. Kavandi served 25 years at NASA where she was Director of NASA's Glenn Research Center and, prior to that, Director of Flight Crew Operations and Deputy Director of Health and Human Performance at NASA's Johnson Space Center. She was selected as a NASA astronaut in 1994 and flew on three space shuttle missions, logging 33 days in space and 13.1 million miles in 535 Earth orbits.
The recipient of two Presidential Rank Awards, two NASA Outstanding Leadership Medals, two Exceptional Service Medals, three NASA Space Flight Medals and the Distinguished Service Medal, Dr. Kavandi was inducted into the Astronaut Hall of Fame in 2019.
Her educational background includes a Bachelor of Science degree from Missouri Southern State University, a Master of Science from the Missouri University of Science and Technology and a PhD in analytical chemistry from the University of Washington. She has two adult children with her husband, John Kavandi.
NASA has contracted Sierra Space's Dream Chaser® spaceplane for a minimum of seven resupply missions to the International Space Station. The company is also building a three-story habitation and science module called LIFE™, which will provide ample room for astronauts to live and work on board the world's first commercial space station, Orbital Reef.
Joe Landon
is Vice President & General Manager of Lunar Infrastructure Services at Lockheed Martin where he is building a new team to deploy communications and mobility infrastructure at the Moon. Prior to this role, Joe led growth, strategy and R&D for Lockheed's Commercial Civil Space line of business. Joe previously served as CFO of Planetary Resources and co-founded Space Angels.
Joe is an Associate Fellow of AIAA and a member of the World Economic Forum's Global Future Council on Space. He holds undergraduate and masters degrees in Engineering and an MBA from Harvard Business School.
Ron Lopez
joined Astroscale as Managing Director in April 2019 to lead the company's business operations in the United States.
Ron brings over 25 years of government and industry experience, encompassing systems engineering, program management, sales and marketing, technology/research and development management, and strategy formulation.
Ron started his career as an Intelligence Officer in the United States Air Force, serving as the focal point for Space Situational Awareness capability development at Air Force Space Command's Space Control Division. He then joined Boeing and worked on various programs as a Systems Engineering Manager within Boeing Research & Technology and Phantom Works and led business development activities for the Network & Space Systems division throughout the Asia Pacific region. Prior to joining Astroscale, Ron led the Defense & Space Asia Pacific sales team at Honeywell Aerospace, helping the company achieve significant sales growth and expansion into new markets.
Over half of Ron's career has been spent working and living in Japan, and he is an active member of The Maureen and Mike Mansfield Foundation's U.S.-Japan Space Forum.
Dr. Sandra H. "Sandy" Magnus
is a Principal at AstroPlanetview.
Previously, Magnus served as the Deputy Director of Engineering in the Office of the Under Secretary of Defense for Research and Engineering. Prior to joining the DoD she served as the Executive Director of the American Institute of Aeronautics and Astronautics (AIAA), the world's largest technical society dedicated to the global aerospace profession. Selected to the NASA Astronaut Corps in April, 1996, Dr. Magnus flew in space on the STS-112 shuttle mission in 2002, and on the final shuttle flight, STS-135, in 2011. In addition, she flew to the International Space Station on STS-126 in November 2008, served as flight engineer and science officer on Expedition 18, and returned home on STS-119 after four and a half months on board. Following her assignment on Station, she served at NASA Headquarters in the Exploration Systems Mission Directorate. Her last duty at NASA, after STS-135, was as the deputy chief of the Astronaut Office. Before joining NASA, Dr. Magnus worked for McDonnell Douglas Aircraft Company from 1986 to 1991, as a stealth engineer. While at McDonnell Douglas, she worked on internal research and development and on the Navy's A-12 Attack Aircraft program, studying the effectiveness of radar signature reduction techniques.
Jim Maser
is Senior Vice President of Aerojet Rocketdyne's Space Business Unit. In this role, he is responsible for leading the design, development, test and manufacturing for launch and space propulsion systems.
Mr. Maser has more than 32 years of global aerospace experience and leadership, spanning entrepreneurial space launch, human spaceflight as well as commercial and military jet engines. He previously served as president of James G. Advisors, LLC, a strategy, leadership and technical execution consulting firm. Prior to that, he held a number of roles within Pratt & Whitney between 2006 and 2017, including vice president of the F135 engine program and president of Pratt & Whitney Rocketdyne, where he was responsible for the design, manufacture and performance of power and propulsion systems across numerous platforms.
A long-time leader in the aerospace industry, Mr. Maser has extensive experience in program management, design and engineering leadership. Beginning with the Boeing Delta and Evolved Expendable Launch Vehicle programs in structural design, he became lead of advanced studies in systems integration and was one of the key architects of the evolution of Delta II to Delta IV. In 1998, he transitioned to chief engineer of Sea Launch. Before joining McDonnell Douglas (now Boeing) in the 1980s, he was a research fellow at NASA/Lewis (now Glenn) Research Center.
Mr. Maser graduated magna cum laude from the University of Akron with a Bachelor of Science in Engineering and a Master of Science in Engineering. He later received a Master of Business Administration from the University of California, Los Angeles. In 2000, the American Institute for Aeronautics and Astronautics (AIAA) honored him with its George M. Low Space Transportation Award.
Additionally, he currently serves on the board of trustees and is the immediate past president of AIAA. Mr. Maser also serves as an Advisory Board Member for Firefly Aerospace Inc. He previously served on the board of directors of the Space Foundation as well as the California Chamber of Commerce.
Rob Meyerson
is the founder and CEO of Delalune Space, a management consulting company focused on the aerospace, mobility, technology, and investment sectors. He is an angel investor, advisor, and director for companies operating in the hypersonics, space, mobility, technology, and telecommunications industries. Rob is the former President of Blue Origin.
Rob oversaw the steady growth of Blue Origin from 2003 to 2018, building the company from its founding into a more than 1500-person organization. Prior to joining Blue, Rob was a Senior Manager at Kistler Aerospace. Rob began his career as an aerodynamicist at NASA's Johnson Space Center (JSC).
Rob earned a B.S. degree in aerospace engineering from the University of Michigan and a master's degree in industrial engineering from the University of Houston. He is an AIAA Fellow, a Trustee of the Museum of Flight in Seattle and a member of the University of Michigan College of Engineering Leadership Advisory Board. Rob was awarded the Space Flight Award by the American Astronautical Society in 2017 for his accomplishments at Blue Origin.
Mark Mozena
is the Vice President of Government Affairs for Planet in Washington, D.C. where he leads Planet's government relations and policy efforts with Congress and U.S. Government Agencies. Before joining Planet, Mark worked for United Launch Alliance (ULA) where he handled the civil space portfolio and led government relations with NASA, NOAA, and the FAA. Prior to ULA, Mark worked for Representative Michael Honda (D-Silicon Valley, CA) in Washington, D.C. Mark initially joined the Congressman as an AAAS Congressional Science & Technology Policy Fellow before transitioning to permanent staff. As a Senior Policy Advisor, Mark managed the Commerce, Justice, and Science (CJS) Appropriations Subcommittee for Congressman Honda who served as the Subcommittee's Ranking Member. Before working on Capitol Hill, Mark received his Ph.D. in Astrophysics from the University of California, Santa Cruz where his research focused on galaxy evolution. As the son of a US diplomat, Mark spent much of his childhood living in South Asia and southern Africa before going to Rice University in Houston, Texas for his bachelor's degree. Following Rice, Mark taught high school physics with Teach For America in St. Louis, Missouri before moving to California for graduate school.
Todd M. Nygren
is the senior vice president of the Engineering and Technology Group (ETG) at The Aerospace Corporation. ETG comprises nearly half of the corporation's technical staff, providing support to all national security space programs in the areas of space and launch vehicles, electronics and sensors, computers and software, communications and networking, and systems engineering and architecting. The organization also includes the corporate physical sciences laboratories and the corporate research portfolio. Nygren was elected to this position in April 2020.
Previously, Nygren was general manager of the Corporate Chief Engineer's Office (CCEO) and corporate chief engineer at Aerospace. In this role, he was responsible for leading efforts within the corporation and externally to advance mission assurance practices, identify improvements in engineering developments and practices, engage with industry and senior customers, and accelerate the growth of new architectures and capabilities in the national security space enterprise with a special focus on integrating the space enterprise. In addition to his role as the corporate chief engineer, Nygren established the corporation's inaugural support to the portfolio architect as part of the Space and Missile Systems Center 2.0 initiative, with key goals of establishing integrated architectures that can outpace the threat.
Nygren joined Aerospace as a summer hire in 1985 and, then, as a member of the technical staff in 1987. He held positions of varying responsibility in the MILSATCOM Division, culminating in 2002 as principal director, EHF Systems, where he oversaw the program definition and eventual development of the AEHF space, ground control, and mission planning elements; the Enhanced Polar Systems; and sustainment of the legacy Milstar system. Nygren then served as general manager in the Systems Engineering Division and the Development Planning and Architecture Division.
Dr. Shawna Pandya
is a Canadian physician, scientist-astronaut candidate program graduate with the
International Institute for Astronautical Sciences
(IIAS), aquanaut, speaker, martial artist, advanced diver, skydiver, pilot-in-training, VP Immersive Medicine with
Luxsonic Technologies
and Fellow of the
Explorers' Club
. She is also Director of the IIAS
Space Medicine Group
, Chief Instructor of the IIAS Operational Space Medicine course, Director of Medical Research at
Orbital Assembly Corporation
, clinical lecturer, podcast host with the World Extreme Medicine's
WEMCast
series, Primary Investigator (PI) for the
Shad Canada-Blue Origin student microgravity competition
, appointed member of the
ASCEND Guiding Coalition
, Life Sciences Team Lead for the
Association of Spaceflight Professionals
, and sessional lecturer for the "Technology and the Future of Medicine," course at the University of Alberta. She serves as medical advisor to several space, medical and technology companies, including
Astreas
, as well as the Jasper Dark Sky Festival Advisory Committee. Dr. Pandya holds degrees in neuroscience (BSc Hons. Neuroscience, University of Alberta), space (MSc Space Studies, International Space University), and medicine (MD, University of Alberta), and a certification in entrepreneurship (Graduate Studies Program, Singularity University).
Dr. Pandya was part of the first crew to test a commercial spacesuit in zero-gravity in 2015. Dr. Pandya earned her aquanaut designation during the 2019 NEPTUNE (Nautical Experiments in Physiology, Technology and Underwater Exploration) mission. She previously served as Commander during a 2020 tour at the Mars Desert Research Station. Her expeditions were captured in the Land Rover short, released with the Apollo 11: First Steps film. She previously interned at ESA's European Astronaut Center and NASA's Johnson Space Center. Her publications include book chapters on space technologies that have benefitted terrestrial medicine, psychological resilience in long-duration spaceflight, and reproduction and sexuality in long-duration spaceflight.
Dr. Pandya is a seasoned speaker and has given keynotes all around the world, including TEDxEdmonton 2010, TEDxUAlberta 2016 on Success, Failure, Resilience and Pushing the Limits, TEDxISU 2019 at the International Space University on "Discovering Exploration," and in former Canadian Prime Minister Rt Hon. Kim Campbell's Peter Lougheed Leadership College Leadership Lecture Series on Emotional Intelligence.
She is currently completing a fellowship in Wilderness Medicine (Academy of Wilderness Medicine), was granted an Honorary Fellowship in Extreme and Wilderness Medicine by the World Extreme Medicine organization in 2021, and was one of 50 physicians selected to attend the 2021 European Space Agency Space Medicine Physician Training Course. In 2021, Dr. Pandya was named one of the Women's Executive Network's Top 100 Most Powerful Women in Canada, a Canadian Space Agency Space Ambassador, and one of LinkedIn's Top 100 Aviation and Aerospace Professionals to Follow in 2021. She has also been a multi-year finalist for the IIAS' "Awesome PoSSUM" Award for contributing to the strength and development of that organization. In 2019, Dr. Pandya's career and trajectory were captured at the Ontario Science Center's" Canadian Women in Space," exhibit, where Dr. Pandya is permanently exhibited alongside Dr. Roberta Bondar, the first Canadian woman in space (and Dr. Pandya's idol growing up). In 2022, Dr. Pandya was named as one the Explorers' Club's "50 Explorers Changing the World."
Dr. Pandya was named one of the Women's Executive Network's Top 100 Most Powerful Women in Canada in 2020, was granted an Honorary Fellowship in Extreme and Wilderness Medicine by the World Extreme Medicine organization in 2021, was one of 50 physicians selected to attend the 2021 European Space Agency Space Medicine Physician Training Course, and has recently been named a Canadian Space Agency Space Ambassador. In 2019, Dr. Pandya's career and trajectory were captured at the Ontario Science Center's "Canadian Women in Space," exhibit, where Dr. Pandya is permanently exhibited alongside Dr. Roberta Bondar, the first Canadian woman in space (and Dr. Pandya's idol growing up).
Lt. Gen. John Shaw
is the Deputy Commander, U.S. Space Command. U.S. Space Command is the Unified Combatant Command responsible for conducting operations in, from, and to space to deter conflict, and if necessary, defeat aggression, deliver space combat power for the Joint/Combined force, and defend U.S. vital interests with allies and partners.
Lt. Gen. Shaw entered the Air Force in 1990 as a distinguished graduate of the U.S. Air Force Academy with a degree in astronautical engineering and a minor in Russian language. He has served in a variety of air and space operations and staff positions, including operations tours in the 50th Space Wing, the National Reconnaissance Office, the 32nd Air Operations Group and the Space Warfare Center. His operational commands have included the 4th Space Operations Squadron, the 50th Operations Group and the 21st Space Wing. He also served at U.S. Strategic Command as Director of the Commander's Action Group and as Deputy Director for Operations, and in the Pentagon as an Air Force intern, as Deputy Chief of Space Strategy and Integration, a speechwriter and as a senior space policy advisor.
Prior to his current position, Lt. Gen. Shaw was dual hatted as the Commander, Combined Forces Space Component Command, U.S. Space Command, and Deputy Commander, Space Operations Command, U.S. Space Force, Vandenberg SFB, California. He also served as the Deputy Commander of Air Force Space Command, United States Air Force.
Wanda Sigur,
as president of Lambent Engineering LLC, works as an aerospace consultant for both emerging space exploration companies and traditional aerospace industry companies, continuing her lifelong commitment to the success of aerospace missions, the growth of the aerospace profession and new technology implementation. Ms. Sigur retired from Lockheed Martin as Vice President and General Manager of the Civil Space business where she had executive responsibility for national space programs relating to human space flight and space science missions, including planetary, solar, astrophysical, and Earth remote sensing for civil government agencies. These major programs included the Orion Multi-purpose Crew Vehicle, Hubble and Spitzer space telescopes, GOES-R weather satellites, Juno, GRAIL, MAVEN, Mars Reconnaissance Orbiter, Mars Odyssey, and OSIRIS-REx planetary missions, and the company's nuclear space power programs. Wanda's key experience reflects her passion for growing an inclusive and progressive space exploration environment.
Previously, Ms. Sigur was Vice President, Engineering, Space, for Lockheed Martin Corporation (LM). In this capacity, she was responsible for leading LM's space engineering personnel development and deployment; engineering processes, tools & training; and product technical validation, with emphasis on ensuring operational excellence and first-time-right engineering. Over her career, Wanda has held multiple positions with increasing levels of responsibility. She led several critical initiatives for LM, including Vice President, Program Manager for the Space Shuttle External Tank (ET), responsible for return-to-flight following hurricane Katrina and the Columbia accident.
Ms. Sigur is a member of the National Academy of Engineering (NAE) and The Academy of Medicine, Engineering and Science of Texas (TAMEST), and participates on multiple committees for the National Academies of Science, Engineering and Medicine (NASEM), including Chair of the Space Technology Industry Government University Roundtable (STIGUR) for the Aeronautics and Space Engineering Board. She graduated from Rice University, BSMSE, and Tulane University, MBA.
Lauren Smith is a program manager for the Satellite Servicing operating unit within the Tactical Space Systems division of Northrop Grumman Space Systems. In this role, Smith leads the portfolio of programs that advance the future of in-space refueling.
Smith has served in multiple, diverse air and space roles across her career at Northrop Grumman. She was recently the operations manager for a portfolio of 13 ground and data processing programs as well as the chair of the company's first-ever Systems and Software Engineering Symposium. Smith was also the mechanical test engineering manager for the James Webb Space Telescope (JWST) and a member of the JWST integration and test senior staff as the lead for non-explosive actuators and deployments. As a program manager in Resilience and Rapid Prototyping, NG Next, and Advanced Unmanned Systems, Smith has executed numerous programs and contributed to several strategic captures.
Before joining Northrop Grumman, Smith worked at NASA Glenn Research Center in the Simulated Lunar Operations Lab. She also conducted her thesis work at Glenn, specializing in mechanisms and robotics. This work contributed to being named one of Aviation Week's Twenty20s.
Smith currently serves on both the Space Foundation and Case Alumni Association board of directors, as well as the industry advisory board for her alma mater's mechanical and aerospace engineering departments. She is a member of the AIAA ASCEND Guiding Coalition, serves on two committees for the International Astronautical Foundation, and has held numerous leadership roles for the Space Generation Advisory Council. Smith has also been recognized as a Future Space Leader Grant winner.
Smith holds a bachelor's degree in aerospace engineering, bachelor's and master's degrees in mechanical engineering, and a minor in political science from Case Western Reserve University.
Northrop Grumman is a technology company, focused on global security and human discovery. Our pioneering solutions equip our customers with capabilities they need to connect, advance and protect the U.S. and its allies. Driven by a shared purpose to solve our customers' toughest problems, our 90,000 employees define possible every day.
In 2017,
Melanie Stricklan
combined her military experience and indomitable spirit to co-found Slingshot Aerospace, a company building world-class space simulation and analytics solutions. Today, she is the company's Chief Executive Officer where she leads the strategic vision, product development, and growth strategy. Having proudly served in the United States Air Force for 21 years, Melanie possesses a unique blend of leadership and technical expertise that enables her to create and execute winning business and product strategies.
Dr. Teehan
joined Amazon in June 2021 as a Solutions Architect within the Kuiper Government Solutions team, where he leads advanced planning and projects in support of US Government tailored solutions.
Prior to Kuiper, Colonel (Retired) Russ Teehan served 28 years in the Air and Space Forces culminating in commanding the Space and Missile Systems Center (SMC) 300 personnel Portfolio Architect Directorate leading all advanced planning, architecting, budgeting, and systems engineering for the 6000-person, $9B/year US Space Force premier acquisition center. Prior to SMC he served as the Commander of the Air Force Research Laboratory Phillips Research Site where he led an 800-person team with an annual budget of $300 million focused on advancing technologies to prototype the next generation of Air and Space Force capabilities. Russ was commissioned in 1993 by the USAF Academy and served in a variety of assignments ranging from basic weapons research at the AF Research Laboratory, Assistant Professor of Physics at USAF Academy, classified program management at SMC, and multiple Air Staff and Office of the Secretary of Defense Staff assignments.
Russ is the proud father of two wonderful daughters: Emma (21) and Addyson (17).
Dr. Derek Tournear
is currently the Director of the Space Development Agency, within the Office of the Under Secretary of Defense for Research & Engineering (OUSD(R&E)). SDA will unify and integrate space capability development and deployment across the department to achieve the DoD space vision while reducing overlap and inefficiency. He previously served as the Assistant Director for Space, responsible for developing the research and engineering roadmap to address future gaps in the DoD space architecture.
Dr. Tournear previously held leadership roles in industry, most recently the director for the Harris Space & Intelligence (SIS) research & development. SIS was a $2B business focused on providing advanced technical solutions addressing the top National Security threats from underwater to outer space.
Prior to industry, Dr. Derek Tournear was a Senior Program Manager (SNIS-HQE) at the Intelligence Advanced Research Projects Activity (IARPA) in the Office of the Director of National Intelligence (ODNI). At IARPA, Dr. Tournear served as a senior scientist for space activities and space technologies in the Office of Smart Collection.
Prior to IARPA, Dr. Tournear was a Program Manager for the Defense Advanced Research Projects Agency (DARPA), Tactical Technology Office and Strategic Technology Office. At DARPA, he initiated and directed a large portfolio of program, with an emphasis on sensors and space.
He has professional experience at Los Alamos National Laboratory (LANL) managing intelligence and defense programs. During his time at LANL, he initiated a new field of study in gamma ray optics, and developed sensors for nuclear material detection.
Dr. Tournear has a Ph.D. in physics from Stanford University and a B.S. from Purdue University. In 2010 he received an "Outstanding Alumnus" award from Purdue University and a 2008 DARPA award for "Outstanding Accomplishments in a Systems Technology Area." Dr. Tournear is a 2011 recipient of the Secretary of Defense Medal for Exceptional Public Service, and a 2012 recipient of the Office of Director of National Intelligence Award for Exceptional Public Service.
Matthew Weinzierl
Senior Associate Dean and Chair, MBA Program; Joseph and Jacqueline Elbling Professor of Business Administration, Harvard Business School
Matt Weinzierl is Senior Associate Dean and Chair of the MBA Program at Harvard Business School and a Research Associate at the National Bureau of Economic Research. His research focuses on the optimal design of economic policy, in particular taxation. Since 2016, he has launched a set of research projects on the commercialization of the space sector and its economic implications. Prior to completing his PhD in economics at Harvard University in 2008, Professor Weinzierl served as the Staff Economist for Macroeconomics on the President's Council of Economic Advisers and worked in the New York office of McKinsey & Company.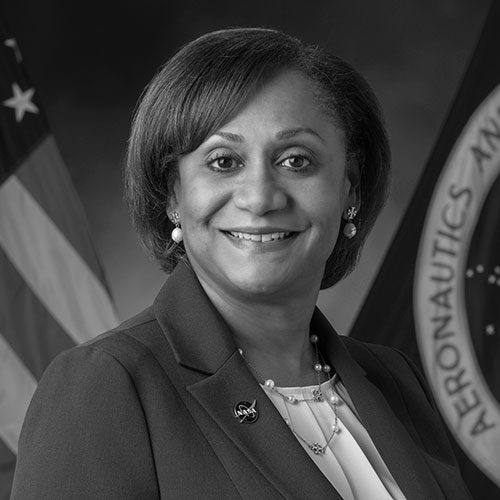 Vanessa E. Wyche is the director of NASA's Johnson Space Center, home to America's astronaut corps, Mission Control Center, International Space Station, Orion and Gateway programs and its more than 10,000 civil service and contractor employees. She is responsible for overseeing a broad range of human spaceflight activities, including development and operation of human spacecraft, commercialization of lowEarth orbit and Johnson's role in landing the first woman and first person of color on the surface of the Moon. Wyche previously served as deputy director at Johnson, a position she held since 2018. Other key leadership positions include: assistant and acting deputy director of Johnson; director of the Exploration Integration and Science Directorate, flight manager of several missions of the retired Space Shuttle Program, executive officer in the Office of the NASA Administrator, and led additional center-level technical and program organizations.
Before joining NASA in 1989, Wyche worked for the Food and Drug Administration in Washington D.C. A native of South Carolina, Wyche earned a Bachelor of Science in Engineering and Master of Science in Bioengineering from Clemson University. In recognition of her contributions to the engineering profession she was inducted into the Thomas Green Clemson Academy of Engineers and Scientists at Clemson University in 2019. Wyche is a passionate promoter of science, technology, engineering, and math (STEM), and serves as a member of Clemson University's College of Engineering, Computing and Applied Sciences advisory board, the University of Houston's C. T. Bauer College of Business advisory panel, the Houston Exponential board of directors, and is a past chair of the Space Center Houston board of directors. She is the recipient of two NASA Outstanding Leadership Medals, two NASA Achievement Medals and is a current fellow of the International Women's Forum. Wyche is married to George Wyche Jr. Esq, and has one son, George Wyche III.
Accelerate with Us!
Build your off-world future faster. Subscribe now for alerts, news, special offers and extra access to the expanding universe of ASCEND.